Qingdao Eye Hospital of Shandong First Medical University Ranks Among the Top Ten Eye Hospitals in China for Ten Years
Newstime:2020-03-03 16:47:26
Comefrom: 办公室
On November 10, Fudan University Hospital Management Institute released Fudan edition of 2018 China hospital specialist reputation ranking.Qingdao Eye Hospital of Shandong First Medical University ranks in the top ten ophthalmic schools in China for 10 consecutive years.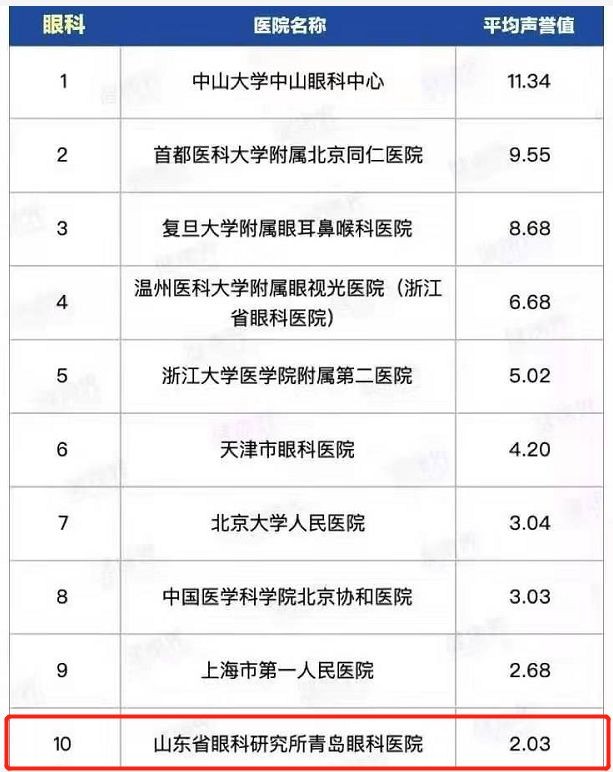 In the past ten years, the Hospital Management Institute of Fudan University has used the evaluation method of "best hospitals ranking" in the United States for reference, insisted on taking the clinical discipline level and professional reputation as the core, and given consideration to the scientific research output of that year. Due to the scientificity of the evaluation method, the results of the ranking are also widely recognized by the medical industry. This year, the number of experts participating in the assessment increased to 4879, with an effective response rate of 66.78%, the highest in a decade.
The director of Hospital Management Research Institute of Fudan University said that the ranking will continue to adhere to the concept of maintaining relative stability and gradual development on the basis of the existing evaluation specialties, and will continue to include the independent and mature disciplines in the future.
Read On Mobile